Recruitment for the NHS has never been more vital
We speak to Urwa Mogul Healthcare Support Worker as part of the 'We are the NHS Campaign'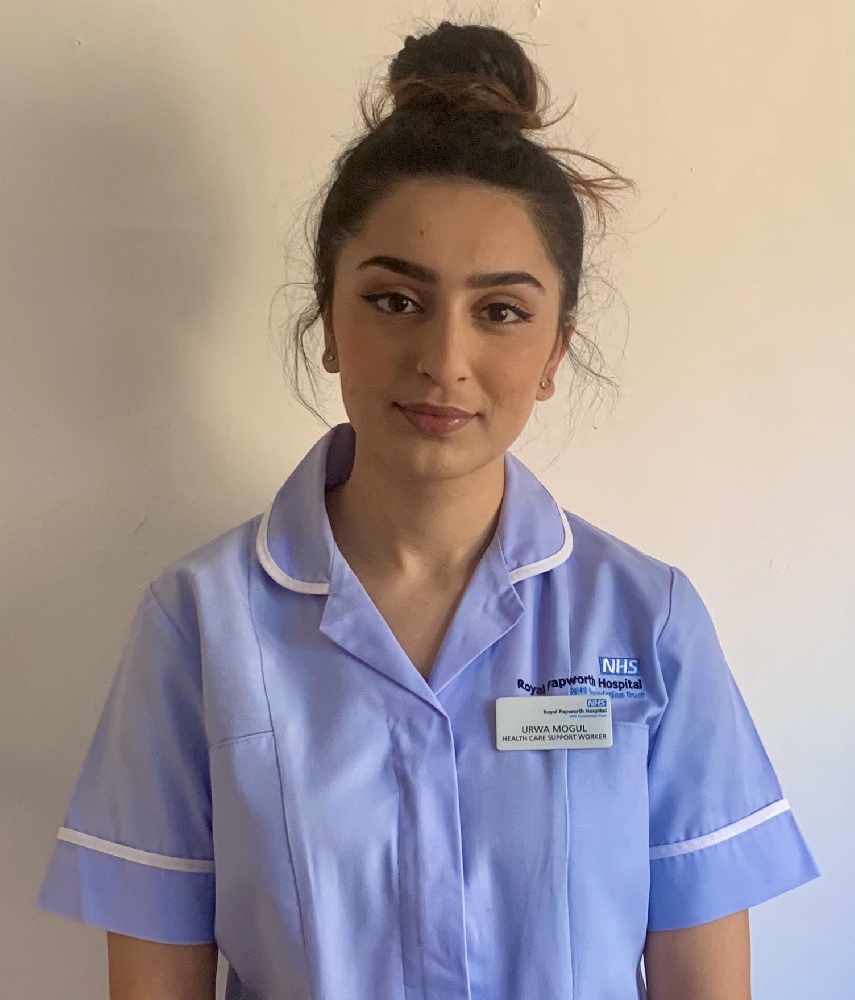 Now in its third year, the 'We are the NHS' campaign is back to celebrate the extraordinary work of NHS staff in over 350 roles including healthcare support workers, nurses and allied health professionals to inspire a new cohort to consider a career in the health service.
The professionalism and dedication staff have shown throughout the pandemic has generated unprecedented interest in joining the NHS while the demands of contending with coronavirus and keeping other services running means recruitment has never been more crucial. 'We are the NHS' shines a light on some of the most in-demand roles in the NHS; all varied, exciting and challenging in equal measures.
Healthcare Support Worker Urwa Mogul shares her experience of working at Royal Papworth Hospital NHS Foundation Trust "I'm a recent graduate however, there are no set entry requirements to becoming a healthcare support worker, apart from good literacy and numeracy skills. You can choose which area you work in, anything from mental health to childcare; I wanted to gain clinical experience therefore, opted for a hospital-based role supporting patients and managing daily activities.
As a Healthcare Support Worker, it's extremely important to be a caring and compassionate individual, patient interaction makes the job extremely rewarding and I would recommend the role to anyone wanting an introduction into the world of healthcare. Another vital skill is working efficiently and effectively with your team members as patient care can only be of the highest standard and in return you have access to world-class training. I love my job and find it extremely gratifying, this is my first full-time role and I have gained so much clinical experience by working with other HCSW's, Nurses, Doctors, Physiologists and Allied Health Professionals, it is also important to be open to learning new skills to show that you can develop. With that mindset the opportunities to progress are endless and I've learnt so much within a short space of time.
Due to the large surge of Covid patients – at Royal Papworth Hospital we take the sickest patients from across the East of England - there has been an increased requirement of staff working on the wards to care for these patients. I was recently redeployed to Critical Care giving an extra hand to nurses looking after patients. It's sad to see patients like this but knowing we are doing our absolute best to help them recover makes it all worthwhile. The majority of critical care patients we see at Royal Papworth Hospital are ethnic minority patients which is saddening but I feel like I am doing a great deal for our community and I hope I've made some sort of a difference to their care and recovery. My end goal is a career in medicine and I know that my patient facing role will help equip me with all the necessary skills and qualities needed to thrive."
Search 'NHS Careers' to find out more