Sukh Kaur
Name: Sukh Kaur
Show: Saturday Breakast
Time: Saturday at 07:00
Facebook: Facebook.com/imsukhkaur
Twitter: @imsukhkaur
Instagram: @imsukhkaur
Email: Sukh@sabrasradio.com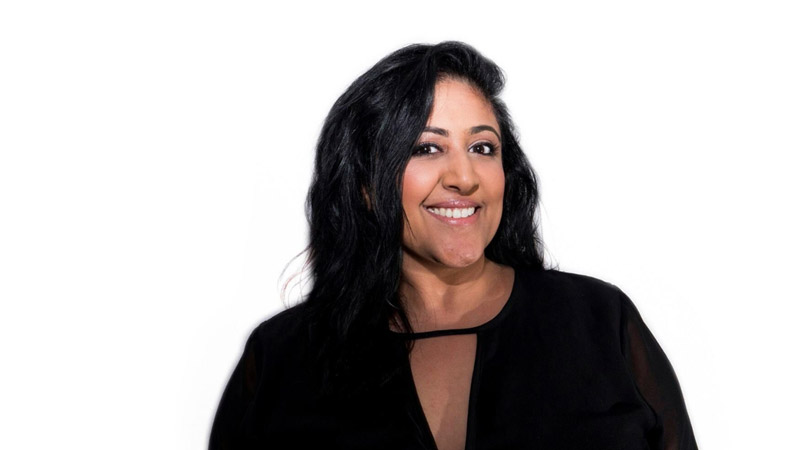 The Serious Qs!
How did you start your radio career?
It was actually by chance. I have always wanted to work in media in some way. I met Raj in June 2017 and was given an opportunity that I couldn't say no to – and so here we are!

What can listeners expect from your radio show?
Listeners can expect their weekend to be kickstarted with great music. It's a fantastic way to begin your Saturday with some great Bollywood tunes. You will also get to know some weird and wonderful stories about what's going on in the world and also give your jawaab to Sukh Ka Sawaal. Fun times to be had while listening to my show.

What's the one thing that drives you in making your show better than the show before?
Of course it has to be my listeners. I always make sure I have great music and news ready for them. If it wasn't for my listeners, I wouldn't be here.

What has been the most memorable moment for you working at Sabras Radio?
That has to be my first Breakfast show, I went on the same day to Host at the Sabras Diwali Mela. It was a surreal feeling to be on air in the morning and by the afternoon hosting on stage with some great talent. That is truly a moment I will never forget.

If you were to name one person for giving you the push to where you are now in life, who would that be?
I would have to say two people! Without a doubt that would be my folks. They have supported me through my good times and bad (really bad)! Always help me dust my self off and get back up again. If it wasn't for them, I would have gained focus and strength to be where I am now.
Your star sign
Cancer

If someone was to play you in the story of your life, who would you want that to be?Hmmm, that takes some thinking. I would have to say Preity Zinta. She is quirky, I love her acting and I felt I related to her a lot in Kal Ho Na Ho. She would play an amazing Sukh Kaur.

Which famous person would you like as your neighbour?
Without a doubt, it would be Ranveer Singh. He seems like a pretty cool guy to hang out with and I bet he would throw a good house party!!I Naturally Deepika would be my bestie too. I can see it now, the three of us hanging out – it would be so much fun.

If you were to go back in history, who would you like to meet?
I would love to have met the Beatles. The 60s would have been an amazing time to have been alive. To have met 5 men that created such a phenomenon in music history and left their mark. I think I could have learnt a lot from them.

Your ultimate child memory?
As soon as I think of childhood memories, it instantly reminds me of watching a lot of Hollywood films with my brother again and again and again. We would get to the point where we would know the entire script and word entire scenes as we watched them. Our speciality was The Golden Child and The Goonies. I reckon I would still be up for the challenge now. Haha!

Who would you like to trapped in a lift with & why?
Someone who likes a good gossip, lots of energy and would be fun to be around. If we are stuck in a lift, we will need to pass the time some how. If Geet from Jab We Met was a real person she would have to be with me. We would definitely have some random conversations and of course 'Sukh Geet ki Best Friend Hogi' once we got out of the lift. (If you know you know)!

What's the one characteristic you admire in others?
I like people who show interest in others. I love it when someone takes time to interact with me and takes on board what I say. I believe that is such a good quality to have nowadays. We live such fast paced lives and for someone to stop, take time out and listen to you, credit most definitely due.

If you were to choose to lose one of your five senses, which would you lose?
Smell, I love food too much not to taste it!

Which exotic location would you most like to go to?
Barbados. I have heard they have pigs that swim in the blue waters of the sea. Sounds so surreal, but I would love to see it for myself.

If not a radio presenter, then?
Planning events. I love to coordinate and delegate. Project planning is definitely a strong point of mine.