Shobha Joshi
Name: Shobha Joshi
Show: Gujarati Sabras
Time: Sundays at 14:00
E-mail: Shobha@sabrasradio.com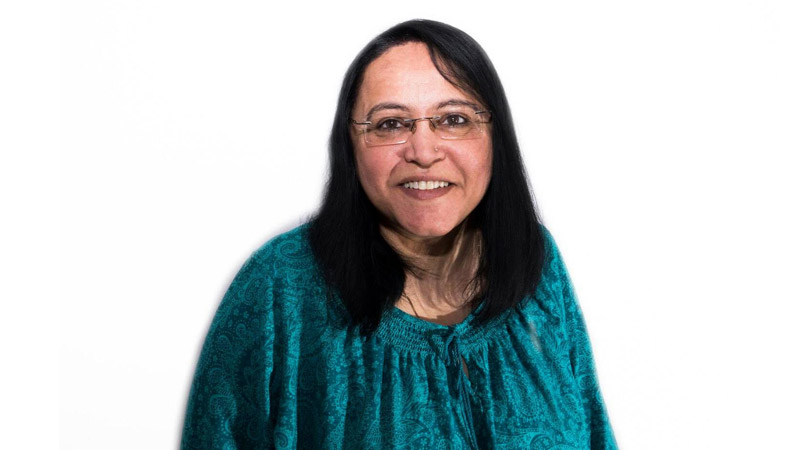 The Serious Qs!
How did you start your radio career?
Gujarati language has always been my passion which brought me to Sabras 22 years ago and I am still here.
What can listeners expect from your radio show?
The very best in Gujarati classic and modern music of all genres.
Interviews with local and international artists and celebrities from Bollywood & Gujarati films, theatre and television, poets , writers, comedians etc.
Health matters in Gujarati with a local GP once a month based on the requests from listeners. Live Antakshari with listeners.
"Dil Ni Dilruba" – Listeners request music of their choice.
"Retro Selection"- of a Bollywood songs.
"Thank You "segment to bring people together & spread positivity.
Childrens show every second Sunday of the month – children showcase their talent through stories/music by coming to SABRAS Studio. Full to MASTI & DHAMAAL .
Shabdo Ni Safare Shobha Saathe (Gujarati literature).
Sunday's Sabras Kitchen and much more to "Cater for All Tastes " .
What's the one thing that drives you in making your show better than the show before?
The motto of my shows is " GAMTA NO KARIYE GULAL" meaning let's share happiness with everyone and make positive difference to others as there is so much to do and so little time.
What has been the most memorable moment for you working at Sabras Radio?
Can't think of just one – there are so many over the years.
If you were to name one person for giving you the push to where you are now in life, who would that be?
My better half and my family.
The Quirky Qs!
If someone was to play you in the story of your life, who would you want that to be?
Shabana Azmi
Which famous person would you like as your neighbour?
Kapil Sharma – Haste Raho – Hasate Raho
If you were to go back in history, who would you like to meet?
Radha – Krishna's beloved
Your ultimate child memory?
When I first learnt to ride a bicycle and had a fall.
Who would you like to trapped in a lift with & why?
Lata Mangeshkar as you don't realise where the time flies by.
What's the one characteristic you admire in others?
Positivity in adversity
If you were to choose to lose one of your five senses, which would you lose?
I don't want to make such choices!!!!!
Which exotic location would you most like to go to?
Where there is Sun, Sand and Sea
If not a radio presenter, then?
Poetess/Writer