Kash Kumar
Name: Kash Kumar
Show: The 6-2-8 Show
Time: Weeknights at 18:00
Facebook: Facebook.com/kash.kumar.3
Instagram: @kashkumar.co
Twitter: @KashKumar
E-mail: Kash@Sabrasradio.com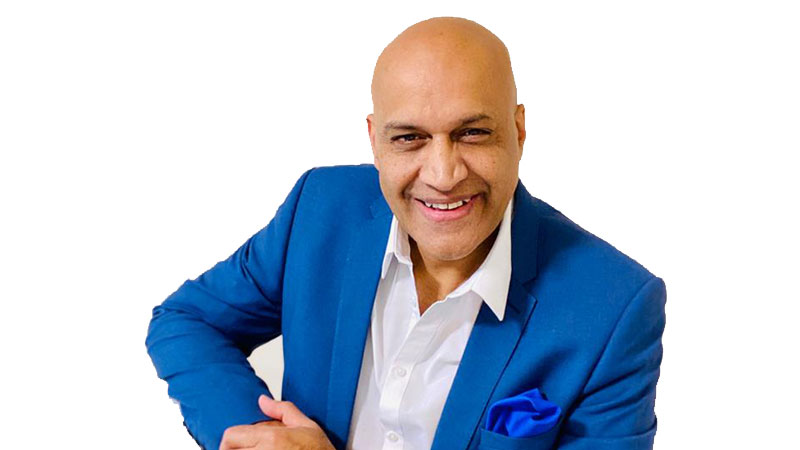 The Serious Qs!
How did you start your radio career?
My radio career started in 1993 with Radio Festival doing the breakfast show & 1994 Rhythm Radio doing the drive time show both being RSL stations. During this period it had made a huge impact for the Leicester listeners & Asian radio in whole and it was during this time that I was able to create my very own style of broadcasting and many of the features are now embedded on 'The 6-2-8 Show' on Sabras! Remember there was no social media to boost up the ego, one had to be creative, professional and do some real ground work!
What can listeners expect from your radio show?
The 6-2-8 show is a prime time show. Light entertainment for the evenings.
My features in part one of the show include traffic & travel updates, business, politics & financial updates. My weekly hitlister song a competition and where one lucky listener will get a live call from me. A big feature is 'What's Cooking in Your Kitchen?' where the listeners can contribute their evening cooking tips!
In part 2 of the show a competition continues with an update of the days sports headlines & at 7:25pm a quick look at the events diary & from 7:30pm a very special feature to slow down the evening with 'Love in the City' 30 minutes of the finest love tunes! Wednesday is my retro jukebox playing the finest 70s & 80s songs & a singing competition. Thursdays special feature is a listeners choice of one favourite Ghazal song to be played in part two of the show. Friday is the legend hour with Amitabh Bachchan at 7pm although this alternates with other legends periodically.
What passion project are you currently working on?
Tilawa 1942 - The Forgotten Tragedy. My grandfather the late Mr. Nichhabhai Chibabhai Solanki sadly drowned when the Japanese Imperial Navy twice torpedoed the S.S. Tilawa on November 23rd 1942. My son, Emile Solanki in Toronto Canada, is the founder of tilawa1942.com. This website has become a comprehensive resource of the forgotten tragedy. All of our various initiatives are to help officially acknowledge the incident and the rescue mission of 678 souls, memorialize the loss of 280 lives, bring closure to hundreds of families around the world, and continue to solve many unanswered questions. It was my late fathers wish, the late Mr. Ranchhodbhai Nichhabhai Solanki, that we preserve the memory of his father, whom he lost at age 9. For over 15 years we have spent countless hours trying to raise greater awareness of the forgotten tragedy. 2022 was a very special year for my son and I. We held the first ever commemoration on the 80th anniversary of S.S. Tilawa, in Mumbai India. We have been featured regularly in news articles, press conferences, TV and radio interviews including here on Sabras Radio with Don Kotak. The commemoration was historic. Over 100 attended including Bollywood veteran Mr. Johny Lever and British Deputy High CommissionerMr. Alan Gemmell, OBE. With the support of the Maritime Mumbai Museum Society, we were able to enjoy a great tour of the Ballard Pier, where Tilawa last left, and the survivors brought back. Their team also took us to the war memorial site at the Royal Seaman's Club to see names of some Tilawa crew members. We also had the privilege that week to meet Bollywood legend Mr. Amitabh Bachchan at KBC Studio during one of his episode shootings of Kaun Banega Crorepati. 2022 concluded with a letter from UK Prime Minister, the right honourable Mr. Rishi Sunaks office acknowledging the S.S. Tilawa incident, the commemoration, and our continuous efforts to bring this historic tragedy back to present times. 2023 and beyond are full of exciting plans to keep the S.S. Tilawa story alive! You may follow our journey on our website tilawa1942.com or most social media platforms @tilawa1942 If you know anyone connected to the S.S. Tilawa tragedy, please do reach out. We would love to get your story!
What's the one thing that drives you in making your show better than?
The listeners are the ones that make my show a success, so each show to me is like my first ever show making it a memorable experience
What has been the most memorable moment for you working at Sabras Radio?
Too many special moments as I have covered many shows from weekends to weekdays
Memorable moment for me is when a listener calls to tell me they love my voice or for that matter I bring back their child hood memories through the music I play or they have to have to talk to me before I finish my show.
If you were to name one person for giving you the push to where you are now in life, who would that be?
I am where I am in life & in this world because of my dear late parents. Saying that, I give my wife all the credit for always pushing me to live my dreams.

The Quirky Qs!
Your star sign?
Aquarius

If someone was to play you in the story of your life, who would you want that to be?
My life is complicated!
Which famous person would you like as your neighbour?
Amitabh Bachchan
If you were to go back in history, who would you like to meet?
Jesus
Your ultimate child memory?
Growing up in the 70s with no care in the world & where everything was so innocent!
Who would you like to be trapped in a lift with & why?
Too scary to even think about!!
What's the one characteristic you like admire in others?
Humility!!
If you were to choose to lose one of your five senses, which would you lose?
Dumb question!!
Which exotic location would you most like to go to?
Yet to explore!
If not a radio presenter, then?
Lawyer.