Dipika
Dipika
Show: Filmi Access
Time: Saturdays at 09:00
Facebook: Facebook.com/MissDipikaa
Twitter: @Miss_Dipika
Instagram: @_miss_dipika
Email: Dipika@sabrasradio.com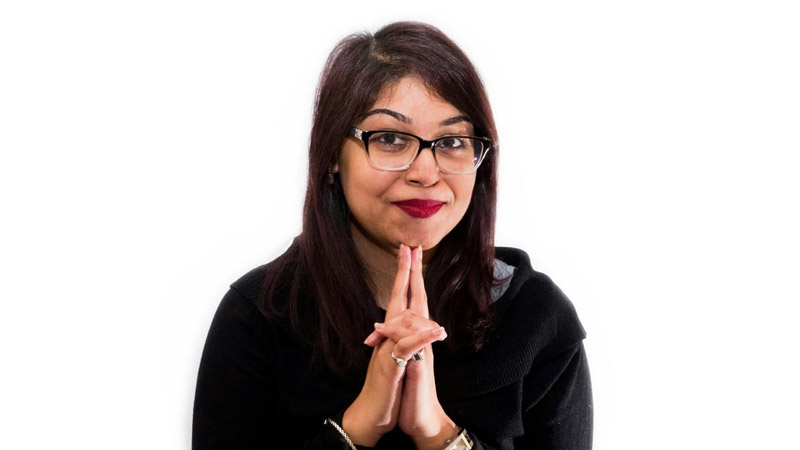 The Serious Qs!
How did you start your radio career?


I actually had done a Radio Productions Course in College and thought to myself, this is different why not pursue this as a career. So, after College I started working for a Community Radio Station.
What can listeners expect from your radio show?
3 hours of sheer Filmi Entertainment, Entertainment & Entertainment. I'd like to think of my show as a bit of a Cocktail. It's got a bit of all the shows you've heard during the week. Basically, everything about Bollywood from the latest News to Music– I have it covered!

What's the one thing that drives you in making your show better than the show before?
The audience, my listeners. I want to provide them with the best show I can every week.

What has been the most memorable moment for you working at Sabras Radio?
I guess it has to be when I joined and met the Team. Meeting them and getting to know them was great, they're all so wonderful. Couldn't have asked for a better team to work with.

If you were to name one person for giving you the push to where you are now in life, who would that be?
I don't think there's one person in particular. Along the way I've got support from many, and they've all helped me and played their part in getting me to where I am now.
The Quirky Qs!
Your star sign?
Sagittarius

If someone was to play you in the story of your life, who would you want that to be?
I would say Parineeti Chopra.

Which famous person would you like as your neighbour?
Deepika Padukone & Gordon Ramsay.

If you were to go back in history, who would you like to meet?
The Showman himself: Raj Kapoor.

Your ultimate childhood memory?
I must have been about 4 maybe 5. The whole family went to a Fun Fair. When we got there I asked my parents to buy me Candy Floss, which they did (on a stick) as we were walking I heard a loud noise so as you do I turned my head to look behind me to find out what it was. As I turned back to my surprise my Candy Floss was gone! I told my Mum and Dad even they were baffled as to where it had gone. When we looked carefully, ahead of us was this woman and she was wearing I think it was a Wool Coat, guess she got too close to me and the Candy Floss stuck to her Coat, don't think she realised she was walking around with something extremely sweet stuck to her Coat.

Who would you like to be trapped in a lift with & why?
It has got to be someone Musical like SEL or Vishal-Shekhar. A jamming session? Yes Please, at least it wouldn't be boring, plus it'd be like a mini concert. Music makes everything better.

What is the one characteristic you admire in others?
Empathy.

If you were to choose to lose one of your five senses, which would you lose?
The sense of Smell.

Which exotic location would you most like to go to?
Maui, Hawaii

If not a radio presenter, then?
Actress.