Rishi Modi
Name: Rishi Modi
Show: Breakfast
Time: Weekdays at 07:00
Facebook: Facebook.com/rishi.modi.503
Twitter: @rishi_modi
Instagram: @rishi_modi
Email: Rishi@sabrasradio.com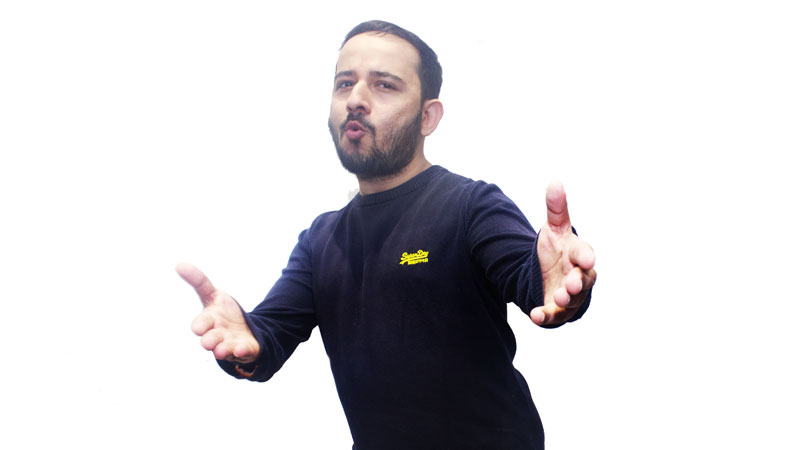 The Serious Qs!
How did you start your radio career?
I heard Sabras Radio was auditioning, through a friend from the industry who referred me.

What can listeners expect from your radio show?
If you're a fan of music this show covers it all. The big hits, the latest tracks, The 90's feature, and a chai conversation while listening to an unplugged session.

The show also brings you fully up to date with Newspaper Reviews, Current affairs, Business & Sports News and of course the all-important TV Guide.

What's the one thing that drives you in making your show better than the show before?
Always thirsty to know what music would one enjoy waking upto. What pace and tone would just be right for someone tuning in while waking up or driving to work. The willingness to give the best to the listener is always a work in progress.

What has been the most memorable moment for you working at Sabras Radio?
It would be rude just to choose one. From the day I got offered a role to, to the acceptance from the Listenership and the wonderful memories created with them.

Some highlights close to my heart would be hosting concert shows for Rahat Fateh Ali khan, Arijit Singh, Shreya Ghoshal, Sonu Nigam… what an honour!

If you were to name one person for giving you the push to where you are now in life, who would that be?
Surely, I can't choose one. Let's make it two? My parents for investing in my interest. And the man who has always has been the backbone of my radio career; Raj Baddhan.
The Quirky Qs!
Your star sign
Leo

If someone was to play you in the story of your life, who would you want that to be?
Ranbir Kapoor in Tamasha.

Which famous person would you like as your neighbour?
Aishwarya Rai Bachchan.

If you were to go back in history, who would you like to meet?
Audrey Hepburn

Your ultimate child memory?
I used to stutter a lot while speaking, I overcame that and now work in talk led profession.

Who would you like to trapped in a lift with & why?
Any singer, music is the cure to a lot of things.

What's the one characteristic you admire in others?
Ability to lift others spirits.

If you were to choose to lose one of your five senses, which would you lose?
Smell.

Which exotic location would you most like to go to?
Bora Bora

If not a radio presenter, then?
Work for the UN or a professional Dog Cuddler