Raj Baddhan
Name: Raj Baddhan
Show/Designation: Drivetime / Sabras Radio Director
Time: Weekdays at 15:00
Facebook: Facebook.com/rajbaddhan
Twitter: @RajBaddhan
Instagram: @rajbaddhan
Email: Raj@sabrasradio.com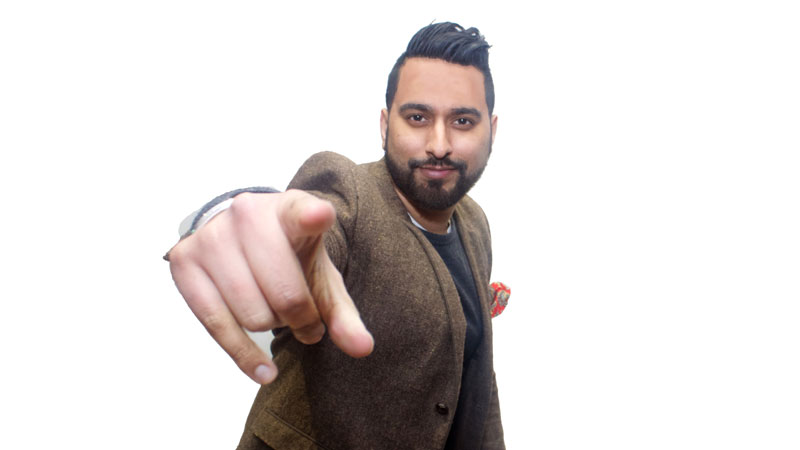 The Serious Qs!
How did you start your radio career?
I've always had interest in the media, started off my radio work at college, then university, followed by community radio stations in Birmingham. I also presented on my university radio station, after which I worked as mentor at a community station. My first commercial radio break came in the form of a couple of big stations in Birmingham back in 2003.

What can listeners expect from your radio show?
Its basically a rollercoaster journey with news, sport, business and showbiz delivered in the most fast and direct way possible. There's also exclusive Indian and Pakistan television star interviews weekly and features like Choice Active (interactive spot), 4 @ 4 and One To Watch.

What's the one thing that drives you in making your show better than the show before?
The appreciation I get from my wonderful listeners. Its my Drivetime familia! Love them!

What has been the most memorable moment for you working at Sabras Radio?
Too many but I can't ever forget the first day I joined Sabras. It was a daunting experience travelling from Birmingham to Leicester for a radio show but it felt just like home.

If you were to name one person for giving you the push to where you are now in life, who would that be?
My parents
The Quirky Qs!
Your star sign?
Capricorn

If someone was to play you in the story of your life, who would you want that to be?
Akshay Kumar
Which famous person would you like as your neighbour?
Kareena Kapoor Khan

If you were to go back in history, who would you like to meet?
My grandfather (he passed away just before I was born)

What's the one characteristic you admire in others?
Confidence

If you were to choose to lose one of your five senses, which would you lose?
Smell

Which exotic location would you most like to go to?
Bora Bora

If not a radio presenter, then?
Politician